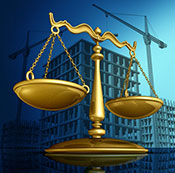 The focused experience of the firm's members in development, finance and public law offers the superior ability to understand the needs of our clients and find real, practical solutions to their unique challenges.

The attorneys of the firm understand the business of real estate development and finance and are leaders in all aspects of building and protecting communities.

Our clients – whether special districts, developers, cities, or financial institutions – know they can count on our unparalleled skills to respond quickly and efficiently, offer sound advice, avoid problems and accomplish your goals.


Real . Practical . Solutions . For Community Development

With over 75 years combined experience, Johnson Petrov is your best source for sound advice, which enables you to efficiently avoid problems and accomplish goals. We stay informed about the latest legal developments and industry trends, which allows us to provide timely and accurate guidance and recommendations to our clients.

Currently Johnson Petrov represents numerous special districts, authorities and utilities as general counsel, special counsel and bond counsel. We represent cities across Texas as general, bond and special counsel, guiding these communities in all aspects of their administration, growth, development and governance.

In real estate, Johnson Petrov represents sellers and purchasers, landlords and tenants, contractors and owners in a broad range of real estate matters including residential, multifamily and commercial transactions, from the simple to the complex.

Johnson Petrov represents commercial, residential and multifamily developers in a variety of commercial and residential real estate transactions and financings. Our experience in this area allows for the development of unique and creative solutions for our clients in the development of real estate.

Our attorneys have represented various issuers of public debt, including municipalities, housing finance corporations and special districts and underwriters of public securities. We also have comprehensive knowledge of finance, tax, public-private partnerships, development and housing. Because we have experience representing all parties in public finance and real estate transactions, we provide expertise on all related matters from the planning and issuance of debt to construction and operation long after the transaction has closed.